The Team
Meet the people who make, sell, and serve our wines
The People Behind the Wine
EDDIE O'KEEFE
President, Since 1985
Favorite Wine: 2018 Pinot Grigio
Eddie is the President of Chateau Grand Traverse, Ltd. and leads the business side of the operation. Eddie's enthusiasm for wine began at an early age while tagging along with his father as a young kid in establishing the area's first commercial winery and vineyard producing vinifera grapes. He then spent his summers at the winery doing everything from vineyard and tractor work to bottling wine, cleaning the cellar and working in the tasting room. Upon graduating from Michigan State University in 1985 with a B.A. in Advertising/Marketing, Eddie returned to the winery to begin his career. Through the turbulent and financially challenging early years to the hyper-evolution and critical recognition of the northern Michigan wine industry, Eddie basically learned all aspects of the wine business from the inside out. Today, he is responsible for the overall business operations from strategic planning to sales, distribution, new market development and finances. Eddie lives on Old Mission Peninsula with his wife Allison, two children, and their dogs, Sitka and Betsy Lane.
Additionally, Eddie has served as Chairman of the Board for WineAmerica from 2012-2014, Executive Board Member for the International Riesling Foundation, President of the Old Mission Peninsula Wine Producers Association, Board Member for the Michigan Wine Producers Association and Board Member for The Bank of Northern Michigan.
BERND CROISSANT
Winemaker, Since 1991
Favorite Wine: 2016 Grü Vin Grüner Veltliner
Bernd grew up in Edenkoben, Rheinland–Pfalz, Germany at his parent's vineyards and winery located 25 miles north of the French border in the Palatinate. As a child, Bernd assisted his father in the vineyards and winery through each year's harvest. In 1975 he began his formal wine training and apprenticeship earning his "Journeyman in Viticulture and Enology" in 1977.
He continued to work at several wineries in the Palatinate while studying at the LLFA Neustadt and LLVA Bad Kreuznach. In 1979 he earned his "Wirtschafter in Weinbau und Weinbereitung" degree; 1980 "Techniker in Weinbau und Weinbereitung" degree; 1981 "Winzermeister" degree.
From 1981 to 1983 he worked as interim winemaker and/or viticulturist in several German wineries. In 1983 he returned to his family winery making white wines and some sparkling wine. In 1984 he became Winemaker and Vineyard Manager at Weingut Schmid in Ballrechten-Dottingen, South – Baden. In 1986 he was made Winemaker and Production Manager at Wein- und Sektgut Menger-Krug, Gau-Odernheim, Rheinhessen.
In 1991 he decided to take an overseas Sabbatical in Michigan hosted by Chateau Grand Traverse through a one-year work-study program. In 1992, he was offered the position of Vineyard Manager at Chateau Grand Traverse and became the Winemaker at CGT in 1993. As the saying goes…the rest is history.
KURTIS BERRY
Lab and Enologist Assistant, Since 2016
Favorite Wine: 2017 Gewürztraminer
Kurtis is a graduate from Traverse City Central. He went on to school at NMU and later back to Traverse City enrolling in Michigan States extension Viticulture program, graduating in 2016. He was the first Michigan State IAT student to intern internationally. He went on Internship to Italy, in the Marche area where he was able to experience both old world viticulture and winemaking at the Cantina VignAmato in San Paolo Di Jesi, Italy. Kurtis has had a wide variety of experiences in the wine industry working in the Cellars and Vineyards locally.
Here at CGT, Kurtis works closely with Bernd. He does an assortment of things from lab analysis, to any additions the wines may need, and data logging daily cellar actions. Kurtis loves that every day at the winery is usually different. Which keeps things interesting. He has a passion for what he does and is excited for future vintages to come. When he is not at the winery, he can be caught in the great outdoors with his dog Luna.
"Wine to me is passion. It's family and friends. It's warmth of heart and generosity of spirit. Wine is art. It's culture. It's the essence of civilization and the art of living." -Robert Mondavi
PETER FRANCISCO
Bottling Production Manager, Since 2005
Favorite Wine: 2013 Pinot Noir Reserve
Peter was originally employed in construction and was involved in building an addition onto our winery. He observed the winemaking process and found it to be an interesting occupation and applied for a position. Since then, Peter has been a key member of Chateau Grand Traverse winemaking team. He is responsible for the operation and maintenance of our bottling line as well as other equipment. Peter is also directly involved in most aspects of our winemaking processes including receiving, pressing, fermenting and filtering. When he is not working, Peter enjoys fishing and the outdoors, especially in Alaska where many of his family members live.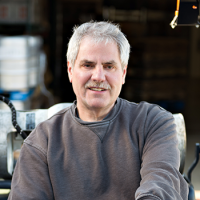 MARK GROENEVELT
Warehouse & Shipping, Since 1990
Favorite Wine: 2018 Whole Cluster Riesling
Mark has been a key man at Chateau Grand Traverse through our many growth phases over the past few decades. Mark's current responsibility is for the shipping and warehousing of all of the products we produce. Whether it is wine to be placed in our tasting room or product to be shipped to our distributors, he is the person who handles every case. He also helps during harvest and heavy bottling production periods. Mark is our in-house Detroit Tigers baseball fan and expert. You will always hear the game being played on the radio. Mark is a long-time Old Mission Peninsula resident and is married with two grown sons.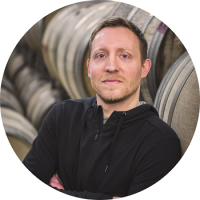 ERIC DLOSKI
Cellar Assistant, Since 2017
Favorite Wine: 2018 Barrel Fermented Chardonnay
TERRIE MCCLELLAND
Operations Manager, Since 1986
Favorite Wine: 2017 Gamay Noir Limited
Terrie is the Operations Manager at the winery and is the go-to person for almost anything. She was originally hired as a tractor driver and vineyard worker back in 1987, and has moved through the winery having worked in the retail tasting room, wine production area, as well as the front office. Terrie is known as the "work mom" for our winery dog, Sitka, who spends most of his nine-to-five shifts by her side. In 1995, Terrie was made Operations Manager and is still defining this challenging position. She is a graduate of Ferris State University with a BS Degree in Social Work/Psychology. Previous to her employment at the winery, Terrie worked as a social worker, domestic violence/sexual assault counselor and with developmentally disabled adults.
ALAN LARRABEE
Controller, Since 2008
Alan was born and raised in Traverse City graduating from Traverse City Senior High and later the University of Michigan. He is a licensed CPA since 1995. He has worked as an accountant in Traverse City since 1991 and joined Chateau Grand Traverse in April 2008. "I like the dynamics of a family-owned business and looking at the winery operation from an accounting point of view is both interesting and challenging" he said. Alan is responsible for financial reporting both inside and outside the company and oversees all accounting and financing matters.
He's a married father of three boys who is a sucker for animals. He has 4 cats who have adopted his family as well as 2 dogs, a Pomeranian and a Chocolate Lab.
SITKA
Winery Dog, Since 2014
Sitka follows in the long line of Samoyeds in the Chateau Grand Traverse family. He can be found chewing on anything left around the office, greeting guests at our Winery Inn, or cheering on the Michigan State Spartans. Sitka joined the winery team in March of 2014 and has quickly stolen the hearts of our staff and guests.
RHONDA RIEBOW
National Sales Manager, Since 1998
Favorite Wine: 2019 Pinot Noir Rosé Vin Gris
Rhonda began her career in the wine industry working for various Wine Wholesalers throughout the mid-Michigan area. After 22 years working in many different capacities, Rhonda broke away and started her own wine brokerage company called BevNet Marketing in 1998. She successfully represented and built new markets for a few national and imported brands throughout the region. In 2001, Rhonda added Chateau Grand Traverse to her mix of products and it grew to become her leading brand. In 2007, Chateau Grand Traverse hired Rhonda to represent its brand exclusively to wholesalers, chains, retail stores and restaurants. Rhonda worked to establish Chateau Grand Traverse as a top 10 brand in the State of Michigan. According to Rhonda, "It has been a joy to help the O'Keefe family in their endeavor to promote world-class wines in the state of Michigan and beyond. I look back on the past 20 years with the winery and family with many fond memories, and look forward to assisting their growth in the future."
Rhonda lives on a small farm in rural Clinton County (mid-Michigan) with her husband, Roger, and an assortment of four legged friends.
MEGAN MOLLOY
Marketing Coordinator, Since 2017
Favorite Wine: 2018 Whole Cluster Riesling
Megan was hired on as the Marketing Coordinator at Chateau Grand Traverse in July of 2017. She was born in Detroit, Michigan and grew up in Fraser, graduating from Fraser High School in 2011. After graduating from Central Michigan University in 2015, Megan began working as the Digital Marketing Coordinator at the Mt. Pleasant Area Convention and Visitors Bureau. Megan now resides in Traverse City with her cat, Ace and Golden Retriever, Sutton.
Megan has always had a passion for wine, food, and enjoying the outdoors and loves to combine her passions and work experience at CGT. At the winery, she manages e-commerce, social media, website design and content, marketing campaigns, in-house graphic design, and assists with programming and communications. Megan also currently serves as a Board Member for the West Michigan Tourist Association. Her favorite part of this job is that there's always something new to learn and experience- every day is a new adventure!
For advertising, marketing, photography, and public relations inquiries, please email Megan: [email protected].
Tasting Room & Hospitality
HIRO MIURA
Wine Tasting Room Manager, Since 2000
Favorite Wine: 2016 Riesling Ice Wine
Hiro has been a core member of Chateau Grand Traverse since his return from Japan in 2000. He is responsible for day-to-day coordination of tasting room operations, and is the key liaison directly involved with customers who visit the winery for tours and tasting. He enjoys interactions with novice as well as experienced wine tasters, and is probably the most recognizable individual in the tasting room. The chance is very likely that you will see him whenever you visit the Chateau Grand Traverse tasting room. He firmly believes that the last customer of the day should have the same level of service as the first. Currently he is expanding his wine collection in his infamous underwater wine cellar, and when he's not in the tasting room he is likely freediving in East Bay Grand Traverse Bay with a bottle of Riesling in hand to add to his collection.
MICHAEL BODUS
Retail Merchandise Manager, Since 2005
Favorite Wine: 2016 Cabernet Franc Reserve
Michael has deep roots in Northern Michigan having family homesteads in Cedar on the Leelanau Peninsula. After graduating with his M.F.A. from Indiana University in 1997 he returned to the area bringing back a broad base of skills and experiences. The skills acquired were developed by holding such positions as Artist, Art Director, Teacher, and General Manager of a 27 year old family business. In 2005 he joined the Chateau Grand Traverse family, initially as a part time Tasting Room staff, but soon was offered the position of Merchandise Manager. This position uniquely utilizes his skills in organization, visual aesthetics, management, and customer service. He currently resides in Leelanau County with his partner, and their two dogs Homer and Cutter.
KEN BOWMAN
Vintage Wine Club Manager, Since 2005
Favorite Wine: 2016 Merlot Reserve
Ken is our Vintage Wine Club manager and joined Chateau Grand Traverse in 2005 after 32 years of service to IBM in New York state.  Amongst his other duties, Ken coordinates all functions related to our Wine Club, and is often called upon to assist in various other functions here at the winery.  His BS degree in Music Education allows him numerous opportunities to serve at his church, as well.  In addition, his wife Gail, a former teacher, helps out in the tasting room on days when lots of visitors are expected.  However, Ken can most often be found in our tasting room, helping customers identify their favorite CGT wine, conducting winery tours, and representing the winery at various off-site tasting events.
PERRY HARMON
Chef, Since 2016
Favorite Wine: 2016 Silhouette
Chef Perry comes from Ohio, growing up in Copley and then Cleveland and lastly Mount Vernon. At age 30, he decided to follow his passion and went to culinary school in Cleveland, Ohio where he graduated "cum laude" with an Associate's Degree in Culinary Arts and Hospitality Management. After graduating he won his first competition: The American Dairy Association's "Premier Chefs of America" in 1994. He has worn many chef's hats over the years working in hotels, private clubs, corporate dining, and as a personal chef as well as operating his own gourmet food business and raising two children. Perry oversees the food offerings at the Inn for both everyday guests and dinner functions throughout the year as well as developing and implementing the menus for the tasting room and patio. When not at work, Perry is an avid fly fisher and resides with his wife Kris and Bear the dog in Slabtown in Traverse City.
RON HARP
Vineyard Manager, Since 1998
Favorite Wine: 2018 Late Harvest Riesling
Ron comes from strong agricultural background having worked his whole life on Old Mission Peninsula with cherries, apples and grapes.  Ron is our equipment "artist" in his ability to maintain, fix, or operate a multitude of complex farm and vineyard equipment. In farming, Ron is a rare breed with his ability to get the job done despite, weather, breakdowns or obstacles. In has spare time, Ron and his wife Deb enjoy bird watching, hunting and fishing. Ron was instrumental in establishing a healthy bird habitat around our vineyards by building and installing dozens of bird houses and bat boxes as well as employing many of our sustainable environmental practices.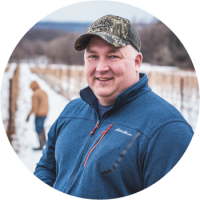 JAY BUDD
Assistant Vineyard Manager, Since 2019
Favorite Wine: 2018 Late Harvest Chardonnay
Jay grew up on a family farm located in southeast Michigan. The youngest of three sons, Jay graduated from Northern Michigan University in 1997. He entered into the environmental consulting field in 1998 where he was relocated to the Traverse City area in the spring of 1999. In 2009, an opportunity was presented to Jay to return to his agricultural roots and he joined the staff of Mutual Farm Management where he was introduced into all aspects of the viticultural world. Jay joined the staff at Chateau Grand Traverse in late 2019 to aid the team in growing and harvesting the high quality grapes that are used to produce our wines. In his spare time, Jay enjoys spending time with his family and various outdoor pursuits including hunting, fishing and skiing.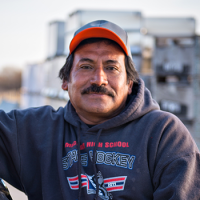 PABLO GOMEZ
Vineyard Assistant, since 1999
Pablo oversees daily activities in the vineyard. His primary duties include pruning, vine maintenance, harvest and general upkeep. Pablo is married and has three children. In his spare time, he enjoys spending time with his family as well as serious vegetable gardening with a specialty in tomatoes and assorted peppers.
ASHLEY FAVELA
Housekeeping and Guest Services, Since 2019
Favorite Wine: 2018 Barrel Fermented Chardonnay
BETH BRAGENZER
Housekeeping and Guest Services, Since 2020
A.J. KIEL
Groundskeeping, Since 2015
Favorite Wine: 2016 Gamay Noir Reserve
A.J. was born and raised in Northern Michigan. Having always enjoyed both working outdoors and getting to see the fruits of his labor, Groundskeeping was a good fit. Since starting at CGT, he's developed both a taste for wine and an interest in learning the wine-making process. He especially enjoys the variety his job provides, as well as the people he works with.
Even when not working on the flower beds and grounds of the winery, he often spends his summer afternoons tending to his own garden. A.J. is an avid outdoorsman with hobbies including kayaking, mountain biking, fishing, snowboarding, and anything else that gets him outside and active.