See. Sip. Enjoy.
Just a few miles up Old Mission Peninsula, discover where, in 1974, founder Edward O'Keefe Sr. planted Northern Michigan's first Riesling vines in hopes of one day crafting a cooler climate-styled varietal worthy of their European counterparts. Today, amongst stunning views and plenty of exceptional wines, see and taste for yourself just how far we've come.
We offer multiple ways to taste Chateau Grand Traverse wines, either by first-come, first-serve basis or by reservations which may be booked online
Due to the nature of our tastings, all guests will be requested to present an ID for proof of age

Children and minors are welcome in our tasting room with adult supervision

Animals are prohibited at tastings except for certified service animals with credentials but are welcome on The Patio
While outside food and picnicking is not permitted, you can supplement a seated tasting with a Chef's Board add-on (View Menu)
Questions? Contact us at

[email protected]
Tasting Experiences
Estate Tasting
20-30 minutes | Five wines
Group Size 2-6
$10 per guest
Availability:

Wine tastings are offered on a first-come, first-serve basis, and no reservations are required
Experience the wines that make up our portfolio during an Estate Tasting. Our team will educate you on Chateau Grand Traverse history, winemaking practices and taste you through our current selections.
*The Estate Tasting fee is waived for Wine Club Members and three guests.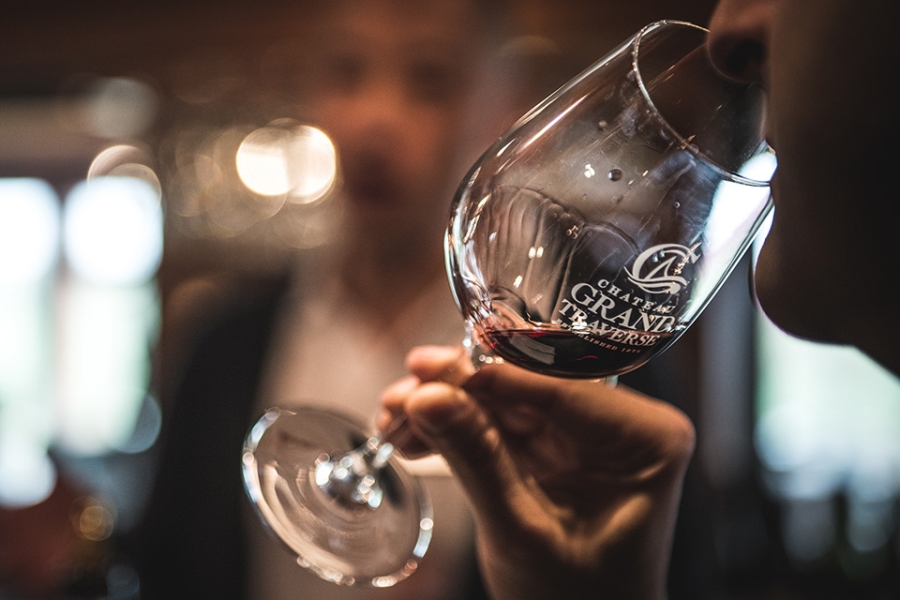 The Patio: A Pour and More
Enjoy a delightful afternoon on our expansive indoor-outdoor patio, where our in-house chef has crafted a sharp, snacky menu perfectly paired with a broad selection of crisp white wines to robust reds. Savor the harmony of flavors as you sip and nibble amidst our scenic vineyards, where the casual atmosphere encourages relaxation and enjoyment.
The covered, heated portion of The Patio offers a unique three-season oasis for wine enthusiasts and food lovers alike, offering a memorable experience that celebrates the finest in wining and dining in Michigan wine country.
Private Cellar Tour and Tasting
1 hour | Tank sample and complimentary pour
Group Size 4-8
$30 per guest
Availability
Embark on a casual Q&A format private tour of our production facility and cellar, housing a remarkable array of 100 gleaming stainless-steel tanks. As you stroll, glass in hand amidst the towering vessels, your guide will illuminate the winemaking process, from fermentation to aging, offering fascinating insights into the science and artistry behind each bottle. This immersive tour promises a unique opportunity to witness the heart of the winery and deepen your appreciation for the craftsmanship that goes into every drop of our exceptional wines. Enjoy unique samplings direct from tanks in process and upon conclusion of the tour, enjoy a complementary glass of wine on The Patio.
Private Seated Tasting
1 hour | Five wines | Seated tasting
Group Size 2-4
$30 per guest
Appointment Only
Supplement a seated tasting with a Chef's Board add-on (View Menu)
In a hurry but don't want to hurry? Skip the line with a prefix, private seated tasting amidst the inviting ambiance of our tasting room. Settle into a cozy corner and savor hand-selected wines curated just for you, all while enjoying the warm, laid-back atmosphere. A dedicated attendant will pour a curated selection of current and reserve wines while sharing stories of the winery's five-decade history, family roots and winemaking process. This unique setting will ensure a delightful journey through our finest selections, combining the best of comfort and elegance in a memorable tasting experience.
Private Barrel Room Tasting
90 Minutes | Six wines | Private seated tasting
Parties of 10 or fewer
$60 per guest
Appointment Only
Supplement a seated tasting with a Chef's Board add-on (View Menu)
Step into a world of unparalleled wine appreciation with a prefix, private seated tasting experience in the enchanting depths of the Chateau Grand Traverse barrel cellar. Surrounded by rows of aging oak barrels where the future treasures of our cellar quietly mature, savor a premium curated selection of our proudest creations conducted by a senior wine guide who will unveil the secrets of each vintage's terroir and craftsmanship. This intimate journey through the winery's cellar promises a sensory adventure unlike any other, where history, tradition, and exquisite flavors converge in a tasting experience wine lovers will never forget.